Products
Select one of the product names on the left to view the description on the right.
Flexi Housing Loans
Our housing loans focus on incremental housing assistance, this does not require land title or security. The loan can be used for home improvement, purchasing of land, paying for electricity and water connections amongst others. We have in-house Housing Support Services Officers to provide you with construction technical assistance and housing support services.

Apply now
Select Financial Services enquiry
HOW OUR
LOAN APPLICATION

WORKS


STEP 2


STEP 3


STEP 4
Step 2
Reach out to our Call Centre and a consultant can call you to facilitate the completion of the loan application.
Step 3
Sign and send the loan documents or we can send an agent to assist where it's convenient for you (eg: Your home or at work.)
Step 4
Your application will be assessed and upon approval, the money will be transferred to your chosen account. T&C's apply


BUSINESS OVERVIEW
Select Financial Services Malawi is a leading financial services provider in Malawi, incorporated on 20th December 2007. The company is a limited liability company that operates as a credit provider, focused on serving primarily government employees. This market is often overlooked by the formal banking sector as the clients are considered too small or too risky. Since its commencement of business in February 2011, Select Financial Services Malawi has been committed to its mission of providing financial services to those who may have difficulty accessing credit from traditional banking institutions.
The company offers financial products and services designed to meet the needs of its clients, such as personal loans. Over the years, Select Financial Services Malawi has established itself as a trusted and reliable provider of financial services in the country. With its focus on serving the underserved, the company has helped many people to access credit, build their businesses and improve their financial stability. In recognition of its efforts, Select Financial Services Malawi has received numerous awards and recognition for its commitment to promoting financial inclusion in Malawi. In conclusion, Select Financial Services Malawi is a reputable financial institution that plays a significant role in addressing the credit needs of those who may not have access to formal financial services. With its strong commitment to serving government employees and its focus on providing innovative financial products and services, Select Financial Services Malawi is poised to continue making a positive impact in the lives of the people of Malawi.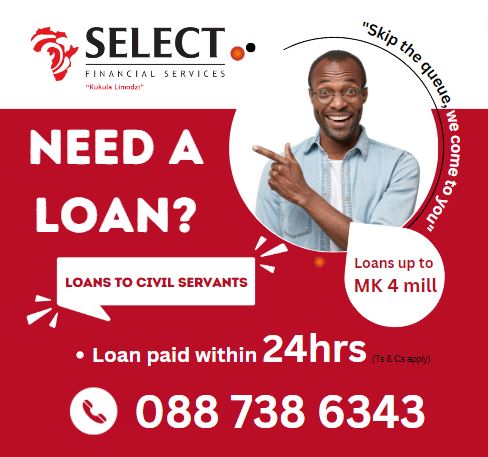 BRANCHES
Regional Manager: Edwin Magola

Physical Address:
Centre House Arcade,

National Office
Robert Mugabe Crescent,
Ground Floor,
City centre,
Lilongwe

Postal Address:
P O Box 2489,
Lilongwe,
Malawi
Telephone Number:
0887 386 345


Regional Manager: Veronica Kuntaja

Physical Address:
Kabula House,
4 Chilembwe Road,
Blantyre

Postal Address:
C/O African Alliance
P.O BOX 2952
Blantyre
Telephone Number:
0887 386 344


Regional Manager: Dyson Chavula Physical Address:
Mkhalabweka Building, Chenda Street

Postal Address:
P.O.Box 225
Mzuzu
Telephone Number:
0887 386 343

Regional Manager – Northern Region
Applications are invited from suitably qualified and experienced candidates for the position of Regional Manager – Norther Region in a dynamic and highly innovative financial institution, which provides financial services to Government, parastatals and private employees.
Sales Agents
Sales Agents Main Purpose of the Role Introduce prospective Clients and assist them to apply and subscribe to Select's Products strictly in compliance with Select's Operational Procedures as may be amended from time to time.
Deputy Chief Executive Officer
The Deputy Chief Executive Officer ("CEO") will, in conjunction with the CEO, be expected to play a lead role in the day-to-day running of the business in Malawi including providing direction and leadership toward the achievement of the organisation's strategic business plan objectives and annual goals.