Products
Select one of the product names on the left to view the description on the right. 
PAYDAY LOAN
A payday loan enables you to borrow an amount of cash over a period of a month and settle the loan by your next payday.
Debit Order Loan (Short-Term)
A Short-Term loan is a commitment with Select Limited in agreement to submit a debit order to your bank in respect of the loan repayment owing for that particular signed duration.

Apply now
HOW OUR
LOAN APPLICATION

WORKS


STEP 2


STEP 3


STEP 4
Step 2
Reach out to our Call Centre and a consultant can call you to facilitate the completion of the loan application.
Step 3
Sign and send the loan documents or we can send an agent to assist where it's convenient for you (eg: Your home or at work.)
Step 4
Your application will be assessed and upon approval, the money will be transferred to your chosen account. T&C's apply


BUSINESS OVERVIEW
Select Limited was established in Eswatini in 1999 and has grown to become the dominant micro lender in the market, by both brand and market share. Select has 5 branch offices in Eswatini, namely, Manzini, Mbabane, Nhlangano, Piggs Peak and Siteki.
Select offers a full suite of retail credit financial products in Eswatini. The target market is salaried employees in the lower to middle income section of the employed market. Additional benefits such as credit life insurance and funeral cover insurance are included as part of the credit facility, as a means of socially enhancing the credit product.
Select is working to leverage its dominant position in the Eswatini market to become a broad based provider of retail financial services.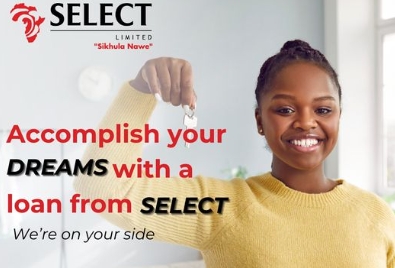 BRANCHES
Physical Address:
Ground Floor,
Liqhaga House,
Nkoseluhlaza Street,
Manzini, Eswatini

Postal Address:
PO Box 2924,
Manzini, M200
Eswatini

Telephone Number:
24 06 6600

Branch Manager: Patience Dlamini

Physical Address:
Ground Floor,
Liqhaga House,
Nkoseluhlaza Street,
Manzini, Eswatini

Email:
dlaminip@sms.co.sz

Telephone Number:
24 06 6636
Branch Manager: Mandisa Masilela

Physical Address:
Ground Floor, Nedbank Building,
Swazi Plaza, Mbabane,
Street: Corner of Sozisa & Dr. Sishayi Road,
Mbabane
Eswatini


Email:
masilelam@selectafrica.net


Telephone Number:
24 06 6402

Branch Manager: Melusi Hlophe

Physical Address:
Ground Floor, SNPF Building
Evelyn Baring Street
Piggs Peak
Eswatini

Email:
hlopheM@sms.co.sz

Branch Manager: Zandile Mabuza

Physical Address:
Lubombo Mall, Shop 14
Flametree Park,
Siteki
Eswatini

Email:
mabuzaz@sms.co.sz


Telephone Number:
23 43 4402
News
Select Limited and Ackermans winter donation August 2023.
We are thrilled to announce that our winter donation at Ackermans was a huge success! Thanks to the generosity of Ackermans store and our amazing team, we were able to provide the children with warm winter clothes and a scrumptious meal. The smiles on their faces were priceless and it was heartwarming to see how grateful they were for the gifts.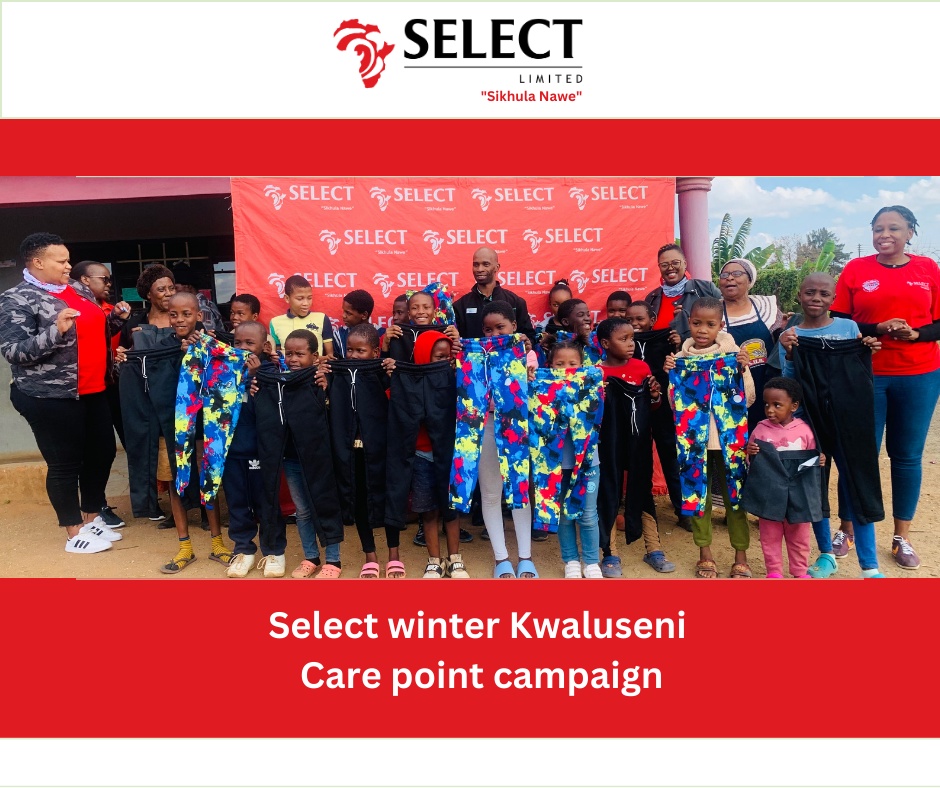 Select Limited School Shoe donation July 2023